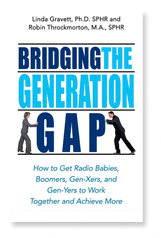 In Bridging The Generation Gap, co-authors Gravett and Throckmorton share hands-on experiences, real-life cases, recommended solutions, and ground-breaking research on how members of any generation can better relate to minimize conflict, miscommunication, and wasted energy.
This book is filled with strategies and solutions that are easy to implement and that immediately build bridges between generations not only within the workplace but also in day to day life.
$16, includes tax & shipping
Bonus Opportunity: Download a FREE copy of  The Generations at Work: Insights from our 2021 Survey on the Generations.
Strategic HR likes to support local authors of human resources and business management topics. We've started with our own book and hope to add others. Contact us if you have a book suggestion for us to consider adding.