strategic HR inc. likes to support local authors of human resources and business management topics. We've started with our own book and hope to add others.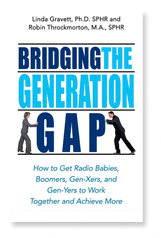 Check back often…
Bridging The Generation Gap is filled with strategies and solutions that are easy to implement and that immediately build bridges between generations not only within the workplace but also in day to day life.
$16 includes tax & shipping
At strategic HR inc. you have many online resources to help you be successful in your job. Throughout our website, you'll find many of these resources at no cost. We also have some additional resources available at competitive prices here in our HR Store. We plan to continue to add to the site, including the HR Store, based on your requests and needs.
e-Workbooks
Have you seen what's new…

These eWorkbooks contain detailed information on a variety of topics such as:
Giving and Receiving Feedback eWorkbook
Delegation eWorkbook
Performance Management eWorkbook Bundle
Each eWorkbook is easy to read and will allow you to quickly assimilate the concepts shared. At times, you will be asked questions to consider with "possible answers" noted in the back of each eWorkbook.
Suggested action plans that will spur you to use the ideas, knowledge, and/or skills may also be included.