Recruitment Process Outsourcing (RPO) can reduce your operating costs and improve quality of hires.
Recruiting qualified employees for your business

can be one of the most difficult and time-consuming HR functions. With the average cost of turnover being 50 – 150% of an employee's salary, it's important to use a well-designed recruitment and retention process and effective strategies to hire and retain the right people.
Since 1995, strategic HR inc. has cultivated a wealth of knowledge concerning current trends in the job market. We have also developed successful strategies on how and where to find the key staff you need for your company. Our Outsourced Recruitment Solution uses creative marketing methods to locate and attract quality candidates that fit your company's culture and skill requirements. We have the know-how, the contacts, and the tools needed to achieve your recruiting goals.
Using our Outsourced Recruitment Solution can reduce your operating costs, increase the speed of hiring, and improve the quality of your hires. As your RPO, we act as a seamless extension of your staff in all aspects of the recruiting process – most of the candidates don't even know that they are talking to an outside recruiter, unless you want them to.
Whether you need to fill several on-going job openings, or have a hard-to-fill position that's been zapping your energy, we understand that our clients' recruitment needs are varied. We offer comprehensive, cost effective services on
demand to meet your hiring needs. We can lead any part of your recruiting process no matter how big or small.
Contact Us to discuss recruitment solutions that will meet your needs – big or small.
Our Outsourced Recruitment Solution Approach
First, we'll talk with you about your recruitment needs/challenges to determine how we can best partner with you to help. We can analyze your recruitment process and strategies and offer recommendations for improvement, if needed. We can create a recruitment plan to ensure the best approach and strategies are used to fill each position.
We'll develop an understanding of your open position(s) as well as your company background, culture, and employment branding.
Next, we'll go through the stages of our recruitment process as follows: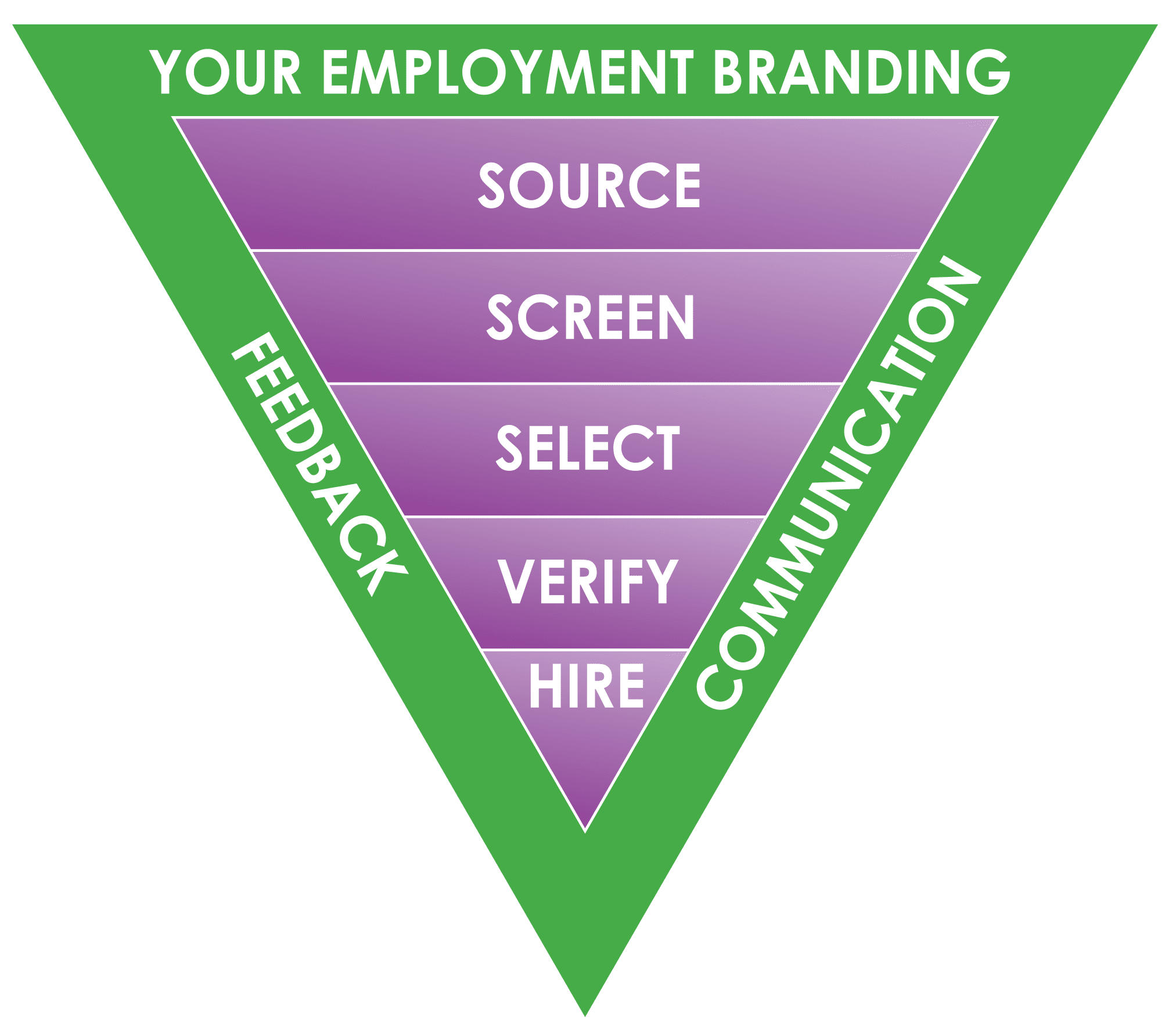 Source
Develop a job description / profile
Determine the best sourcing strategies
Create a job ad (incorporating your employment branding) that will catch the attention of the targeted audience
Post the job ad to our Client Job Opportunities as well as to carefully selected recruiting and network resources
Screen
Screen resumes
Conduct phone interviews with top candidates
Recommend candidates for, schedule, and/or participate in face-to-face interviews
Select
Assist clients with developing interview guides and scheduling on-site interviews
Facilitate panel interviews
Provide Assessment Tools to help ensure candidates are a fit for the job and culture
Verify
Facilitate background checks, drug testing, and employment testing
Conduct reference checks
Hire
Assist management with hiring decisions and making employment offers
Develop and facilitate new employee orientation/onboarding
Notify the candidates not selected
How are we different from other recruiters?
What sets us apart from other recruiters is we are paid hourly. You are only billed for our time spent on recruiting – there are no additional placement fees.
We become your partner in the recruitment process to ensure you only spend as much time with the process as you would like. Through our partnership, we get to know your company, your culture, the department and the position so you can count on us to provide you with the recruiting solutions that meet your needs.
Contact Us to talk about your unique recruiting needs today!
Recruiting Articles:
The following articles are from our Question of the Week publications. Sign up to receive our free newsletters.
---
Here's what our clients have to say:
"Thank you for the two different services strategic HR has provided to Cincinnati Nature Center over the past year. Our relationship began with your providing outsourcing human resources services as we transitioned to professional resource management.  In addition your team helped lead our search for 2 key positions.  Your team provided counsel in writing job descriptions, determining and reviewing the criteria, posting the position, calling applicants, and then doing phone screening to narrow the field.  Your team found new resources and was open to our providing sources we had previously identified.  Your counsel is always appropriate and well received."
"Thank you (strategic HR inc.) for your work on this key position. We're very excited for this addition to our team. You found us some strong candidates, and I know it wasn't necessarily easy to find them.  Thanks especially to Cathleen and David for their diligence and for their strong communication and reporting on the process. I appreciate all your work. Your solid reputation precedes you!"