Analyzing Your Employee Benefits
Question:
We're taking a closer look at the benefits that we offer to make sure we are getting the best bang for our buck.  What are some things we should consider as we are analyzing our employee benefits to help us attract and retain top talent?
Answer:
Kudos to you for recognizing the need to analyze your employee benefits and the value of employee benefits in attracting new talent and keeping the talent you have.  A 2015 Glassdoor survey found that 60% of people find benefits and perks to be a major factor when considering a job offer.  They also found that 80% of employees would choose a strong benefits package over higher pay.  Our unscientific findings, through our own recruiting experience, tend to show that we can overcome about 20% in salary with desirable benefits and perks.
So often, as we hear about unique perks that companies such as Google, Twitter, Apple, and Zappos are offering,  a smaller organization may feel that they just can't compete.  Consider this, you don't have to! Your best analysis of your employee benefits starts with your employees. Ask and listen to your employees to learn what would be of value to them.  A recent survey by Fractl found that while health insurance still ranks highest, other areas that employees place value don't have to come at a high price tag to the company.  Fractl spoke to 2,000 U.S. employees ranging from 18 to 81 in age.  These employees were asked to rank 17 benefits when deciding between a higher paying position or a lower paying position with more perks.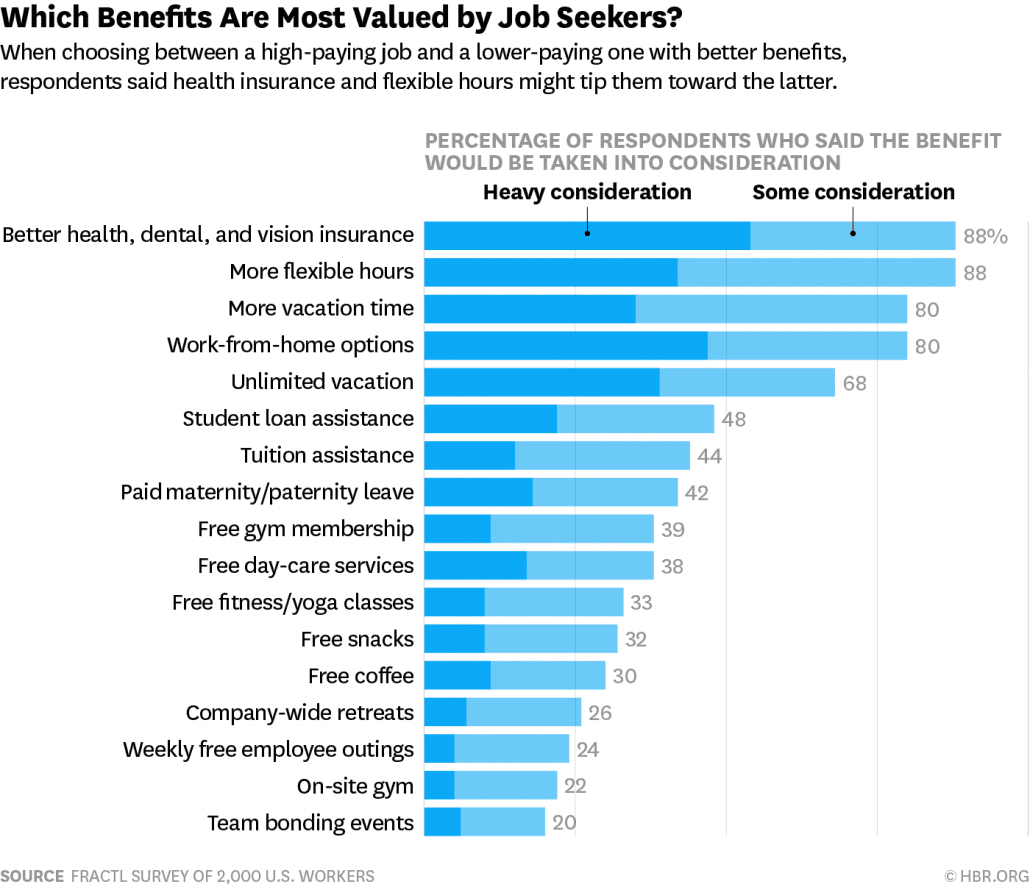 Harvard Business Review, The Most Desirable Employee Benefits, 2/15/17
For smaller organizations, getting creative in perks can improve a work environment.  Could a flexible schedule work for your organization?  There may be solid business reasons why it may not, i.e. phones come on at 8:30 am, but if there is not a solid reason, avoid the logic of, "We've always done it this way."  That little bit of flexibility can make a world of difference for employees juggling getting a family out the door in the morning.  Sometimes it's as simple as stocking employees' preferred drinks and snacks in the kitchen.  This shows the employee you are paying attention and you care about them.  These seemingly small perks can also make a difference in the employee's grocery bill.
In analyzing your employee benefits,  start by looking at usage.  Are your employees actually using the benefits you offer?  Make sure you're putting your resources towards benefits and perks where employees see value.
Keeping an eye on budget, conduct a benefits survey with your employees to find out where they place value.  The categories noted above are a good place to start, making any needed adjustments for your culture and what might be reasonable for your company.  A benefit is only a benefit if it's perceived that way by employees.  Don't be afraid to think outside the box a little.  Often flexibility with time off or schedule is very attractive.  For some employees, assistance repaying student loans can be of huge value, while for others additional 401k match may be more appealing.  Does professional development or membership in a professional organization come into play?
With a little creative thinking you can offer attractive benefits, within your budget, that will make a difference for your current employees and in the quest to attract new ones.
Providing adequate Benefits and Compensation for your employees is key to the recruitment and retention of a well performing workforce, and having the right policies in place can make or break a company.  Strategic HR, inc. understands this critical need and can help you analyze your benefit and compensation system to meet today's competitive market.  Please visit our Benefits and Compensation page for more information on how we can help get you competitive today.
https://strategichrinc.com/wp-content/uploads/2015/05/wheel-benefits.jpg
201
200
Robin
https://strategichrinc.com/wp-content/uploads/2021/08/2021-SHRI-CSH-Logo.jpg
Robin
2017-10-31 09:48:46
2021-02-17 14:56:41
Analyzing Your Employee Benefits